Intro to Choral Composing
Begin your compositional journey today and share your musical voice!
In this course, Elaine Hagenberg takes you on a compositional journey to create choral compositions of your own! These step-by-step strategies are specifically designed for choral music enthusiasts who are ready to expand their skills in composition. In addition, choral educators can use this course to introduce their students to the compositional process, aligning with the "Composition and Improvisation" component of the National Core Arts Standards.
"I just wanted to thank you for your online Choral Composition course. I'm almost finished with what I hope is my first GOOD choir piece. I'm 55, and maybe it's not too late for me to pursue this path!" -Jayne, Indiana
"I was starting to run out of engaging virtual activities. Since starting, my students are increasingly excited, motivated, and engaged. They have a buy in during virtual learning and we are having the best time!" -Carin, North Carolina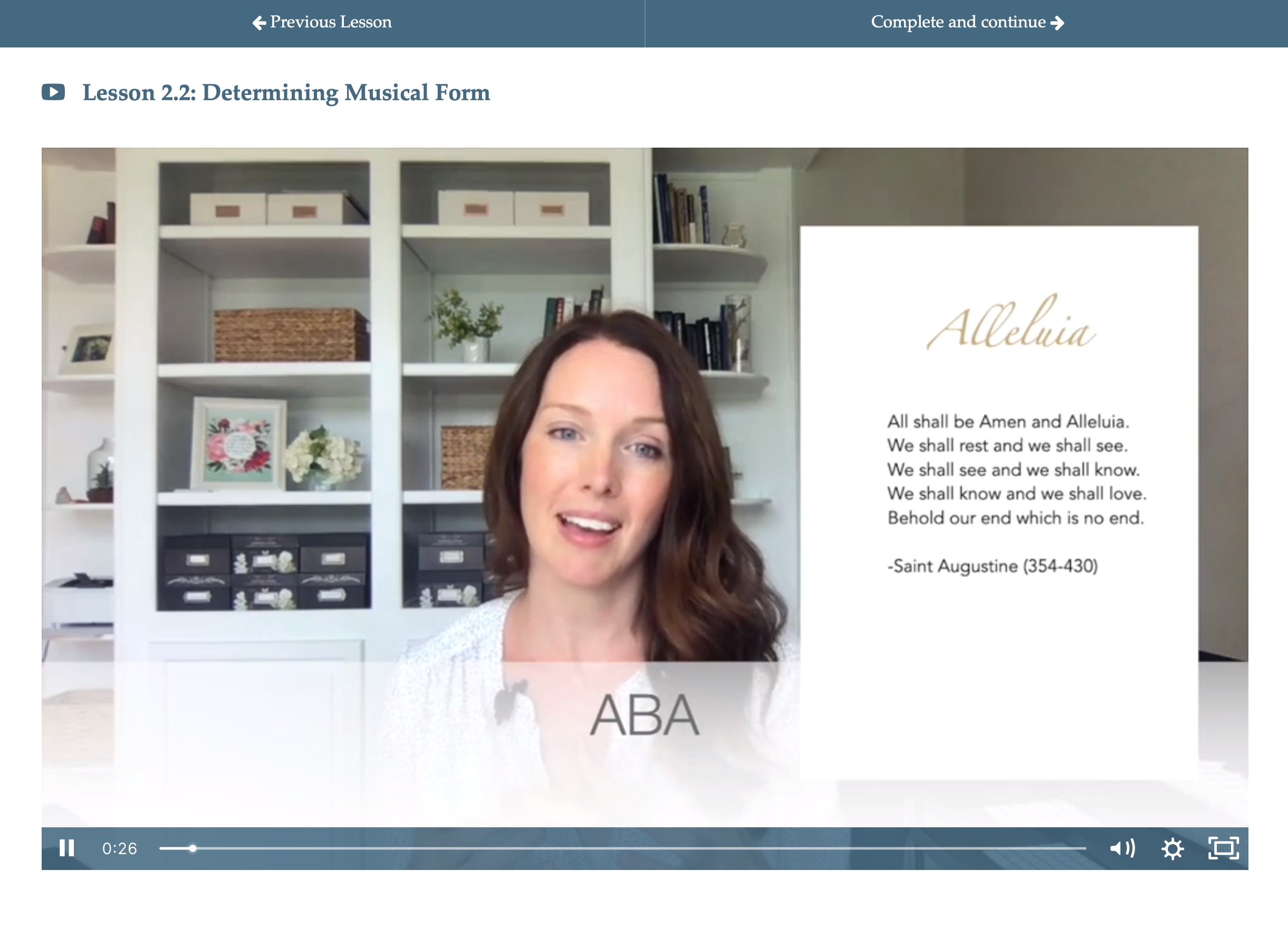 Engaging Instructional Videos
Instructional videos take you behind the scenes and provide simple actionable steps to equip you on your compositional journey.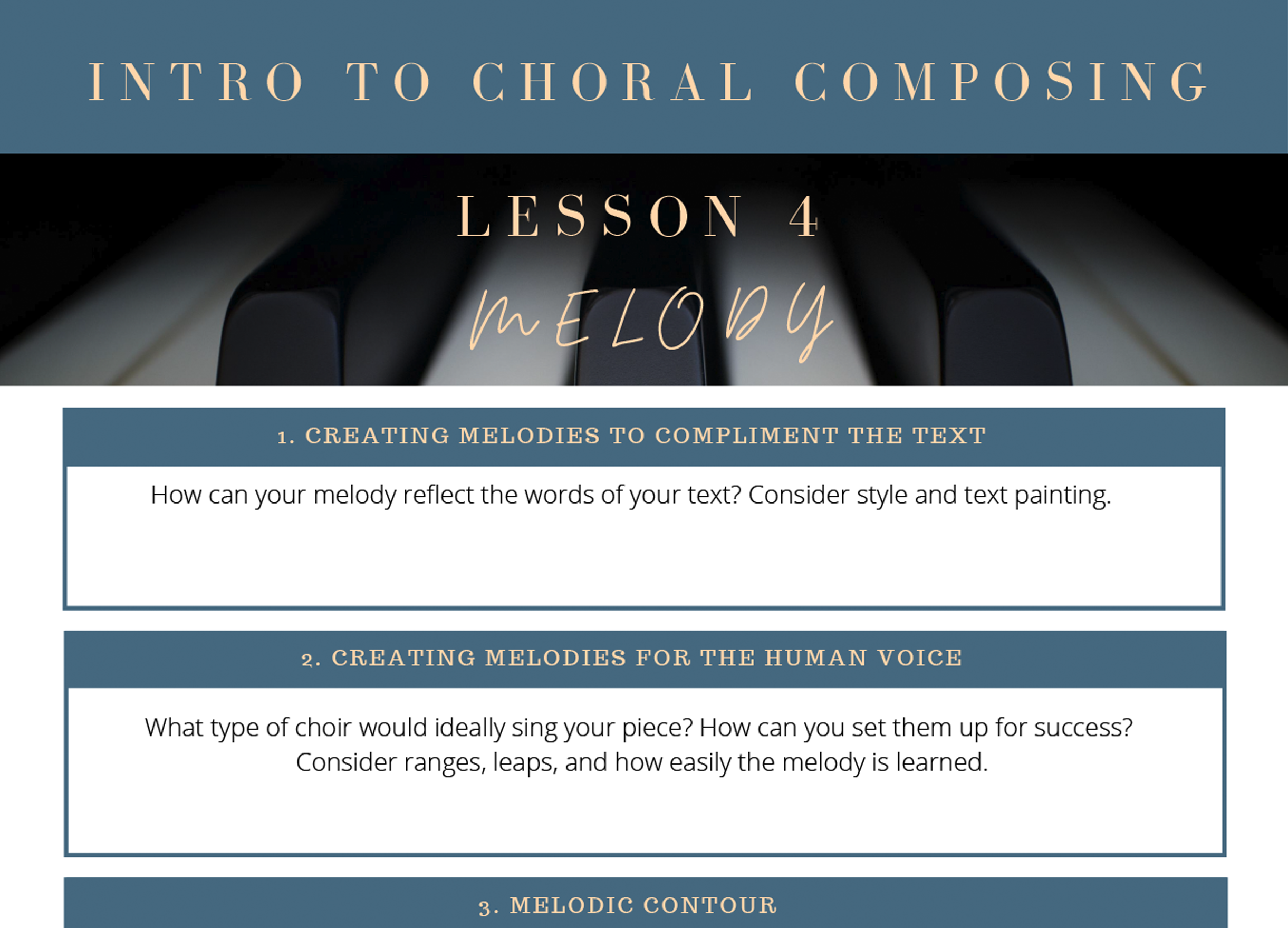 Downloadable Guided Notes
Each lesson is accompanied by guided notes with key topics, questions to consider, and a weekly assignment.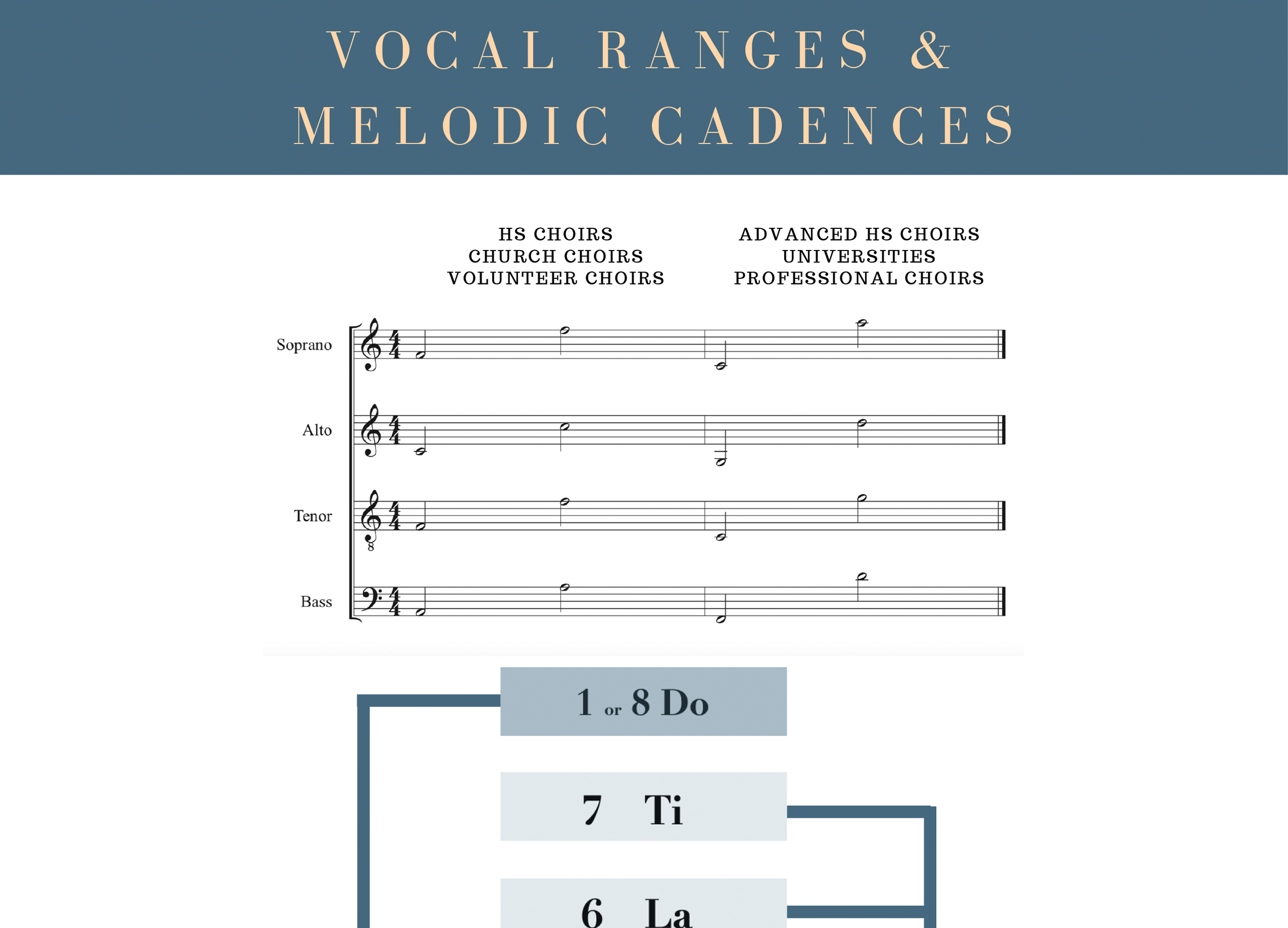 Additional Resources
Course includes additional educational resources including a downloadable teacher guide, recommended practice activities, diagrams and visuals, as well as optional extension activities.
Welcome to Intro to Choral Composing!
This course is designed to give you a step-by-step approach to create your very own choral compositions! In this course, I combine my role as full-time composer with my 9 years of classroom experience to bring you the best insights I've learned over the years.
When I first began composing at age 28, I quickly knew it was my passion, but I had so many questions and didn't know where to start. I wondered: 
How do other composers begin? Should I use a piano or a computer? Where do I search for a text? What comes first the melody or harmony? Do I need to follow all the theory "rules?" How do I add piano accompaniment? How do I get choirs to perform my music? Which publishers are the best fit? 
This course removes the mystery of composing choral music by breaking topics into sequential manageable steps—all in a non-intimidating way! I'll take you behind the scenes and offer examples from my most successful pieces so you can implement these strategies to start composing TODAY.
In this course, we'll discuss:
Inspiration and texts
Form
Rhythm
Writing for human voices
Creating compelling melodies
Beginning counterpoint
Harmonies and part-writing
Accompaniments
Editing and publishing options
Personal challenges
By the end of this course, you'll have simple actionable steps for creating your own choral compositions!
FAQs
Who should take this course?
This course is designed for adult choral enthusiasts and upper level choral students. It's recommended to have some choral experience and a basic knowledge of key signatures, note names, time signatures, and rhythms. This is not a music theory course (there are plenty of free online theory tutorials.) But we will cover simple strategies for finding texts, composing specifically for the human voice, creating compelling melodies, options for chord progressions, basic part-writing, voice leading, accompaniments, editing, publishing, and more!
Do I need to play piano to compose choral music?
No. Playing piano certainly helps, but I will walk you through the process to assist non-pianists as well!
When does the course start and finish?
Whenever you want! It is a completely self-paced online course - you decide when you start and when you finish.
How long do I have access to the course?
One year. After enrolling, you have 12 months to access this course across any and all devices you own.
How can I use this course with my choral classroom?
You can use this synchronous course online by sharing your screen to play each video for your students. The downloadable guided notes, charts, and graphics can all be shared via your preferred method for distributing PDF files.
You can use this course in person by projecting course videos in class and printing the PDF guided notes, charts, and graphics. 
Do I need to purchase this course for each individual student in my choir?
Only one purchase needed per teacher. As a teacher, you can share this content with all your students in class or through synchronous online instruction.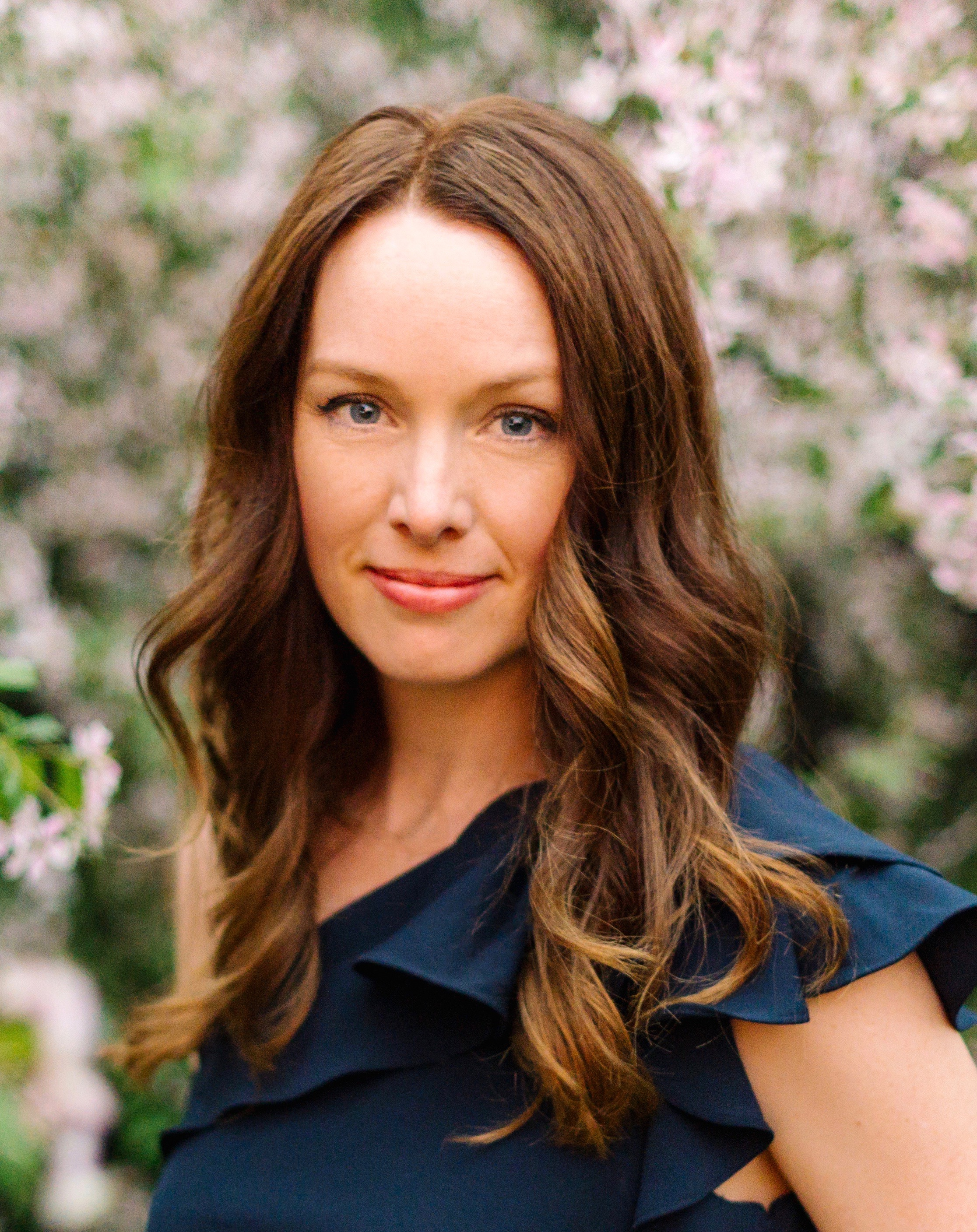 Elaine Hagenberg's music "soars with eloquence and ingenuity" (ACDA Choral Journal). Her award-winning compositions are performed worldwide and frequently featured at American Choral Directors Association conferences, All-State festivals, Carnegie Hall, and other distinguished international concert halls from Australia to South America and throughout Europe.
​
In addition to composing full-time, Elaine actively engages in bringing her music to life as the guest artist and featured clinician for professional conferences and festivals both in the U.S. and abroad as a composer, conductor, and accompanist of her work. 
​
With over fifty commissioned works, she has composed new music for the American Choral Directors Association, professional choirs, colleges and universities, community choirs, high schools, and churches. "I Am the Wind" was named the winner of the 2020 ACDA Brock Competition for Professional Composers.
Elaine has music in print with various publishers including Oxford University Press, G. Schirmer, Hinshaw Music, and Beckenhorst Press. Currently, she publishes her concert music independently through Elaine Hagenberg Music which is distributed through GIA.